Christmas Chocolate Classes
Try something a little different this year and treat yourself to a day of chocolate fun with a festive twist. Experience the pleasure of creating your own range of luxury Christmas themed chocolates.
Under Maria's expert guidance, you'll learn how to make delicious hand-made Christmas chocolate delicacies that will delight and impress all who see and taste them. Give them as gifts or save them (if you have the willpower) and spoil everyone on the big day.
No experience is required, only a love of chocolate. All ingredients, tools, equipment and aprons are supplied. Because the Christmas classes are limited and the groups are small, with a maximum of 6 people, it's wise to book your place as soon as possible.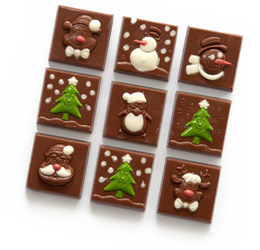 You will make a large amount of chocolates, so remember to bring an Esky and containers to transport all your fabulous festive creations home.
Cost per person is $185
9.30am—3.00pm
In the Christmas classes you'll learn the techniques to make an assortment of these specialty chocolates…
Moulded Chocolates
Using professional moulds, you will create a variety of moulded chocolate shapes decorated with hand coloured Christmas motifs.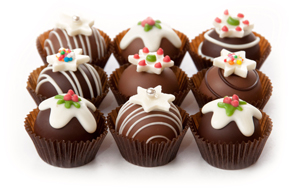 Truffles
Chocolates Truffles are the ultimate Christmas confection. Blend your ganache fillings with your favourite flavours, including a choice of liqueurs, and then finish them with delicate piped decorations.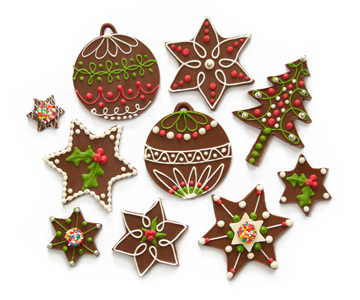 Christmas Ornaments
Use your creative flair to design a selection of Christmas Baubles, Trees and Stars which reflect your personal decorating style.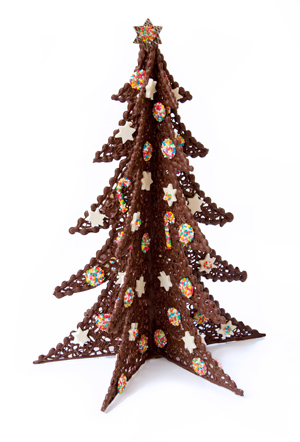 Christmas Tree Sculpture
And if you prefer instead of making the Christmas Ornaments you can create your very own chocolate masterpiece, the perfect centre piece for Christmas… a 3D Chocolate Christmas Tree!